WASHINGTON — The Interior Department spent $138,670 on a door at Interior Secretary Ryan Zinke's office, according to records first uncovered by The Associated Press and reviewed by HuffPost. 
The department awarded the contract to Conquest Solutions LLC, a Greenbelt, Maryland-based company that specializes in automation systems. A contract summary available online lists the purchase as "Secretary's Door."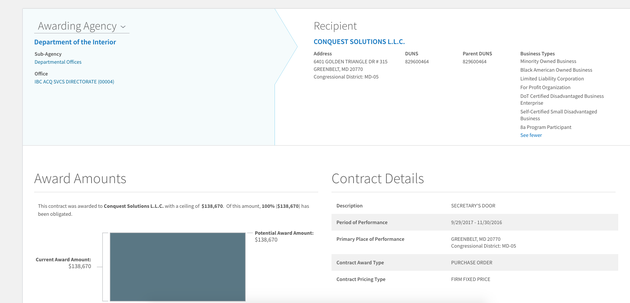 Conquest Solutions could not be reached for comment late Thursday. The Interior Department did not immediately respond to HuffPost's request for comment Thursday.
However, department spokeswoman Heather Swift did confirm the purchase to the AP, saying that Zinke was not aware of the contract and that the purchase is part of a long-running modernization of the historic headquarters building in Washington, D.C. 
"The secretary was not aware of this contract but agrees that this is a lot of money for demo, install, materials and labor," Swift said. "Between regulations that require historic preservation and outdated government procurement rules, the costs for everything from pencils to printing to doors is astronomical. This is a perfect example of why the secretary believes we need to reform procurement processes."
Emily Atkin of The New Republic reported that the Interior Department may have installed an electronic security door ― perhaps one featuring a fingerprint or retina reader. A specialist at a company similar to the one the Interior Department contracted told Atkin that the price tag is not unreasonable for that type of door.
"To be honest with you, $140,000 is not really that far out of the ballpark if it's a high-security type deal," the employee told her.  
— Emily Atkin (@emorwee) March 8, 2018
Athan Manuel, director of Sierra Club Lands Protection Program, issued a statement blasting Zinke for the seemingly lavish expense.
"Zinke is a walking scandal who believes he can live the life of luxury on the American taxpayer's dime, and it's time Trump puts a stop to it," Manuel said. "We only hope that this $139,000 door doesn't hit Zinke on his way out."
Upon taking over the Interior Department, Zinke — a former Montana congressman and Navy SEAL — redecorated his office with a slew of dead creatures and a collection of Navy SEAL knives. Staff members were left scrambling to accommodate the changes, shuffling around a huge grizzly bear, mounting bison and elk heads directly into the office's carved oak paneling, and making way for a $1,749 leather couch from California that included "white-glove delivery service." The interior secretary has also been criticized for his use of private planes, which he dismissed as "a little BS."